#DL Summit Workshop: Fundamentals Data Literacy: From Idea to Use Case in data-driven Marketing
05. Oktober 2022

Do you want to dive into data-driven marketing by learning from an industrial use case? Join this workshop and experience a mixture of theoretical basics strongly interwoven with practical exercises. Dr Anna Hannemann and Sarah Stemmler evolve from "why" to conceptual topics such as GDPR, data storage, statistics, etc.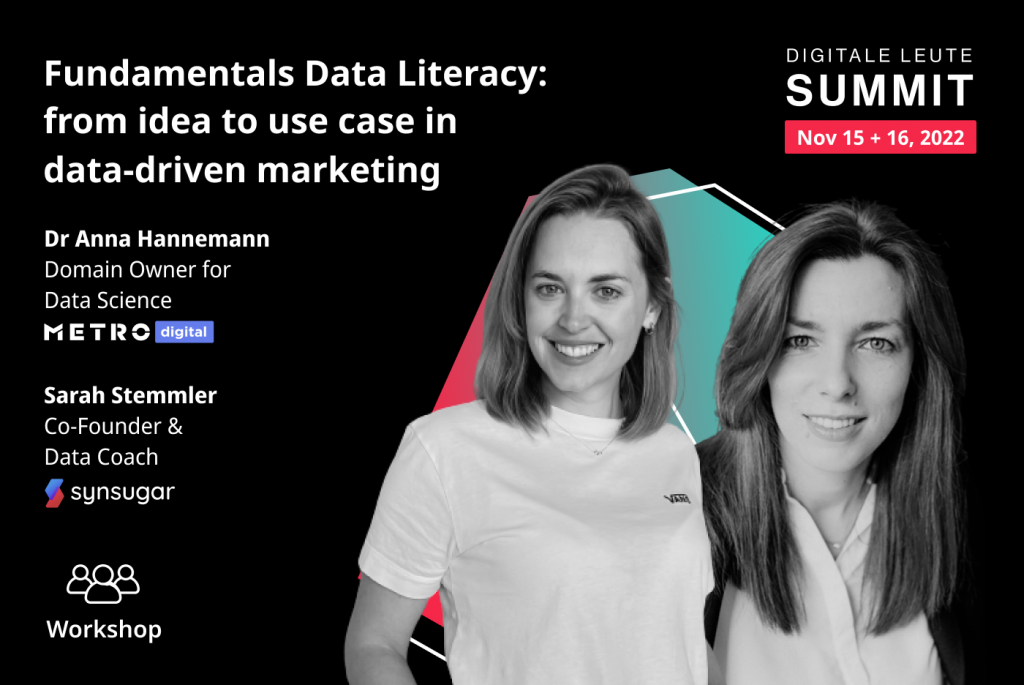 About the Workshop
Date & Location: 15th of November 2022, 10 am to 5 pm — STARTPLATZ, Cologne
Trainer: Dr Anna Hannemann and Sarah Stemmler
Language: English
This workshop is part of our Pre-Conference Workshop Day for Digitale Leute Summit 2022.

Within their session, they aim to equip you with all the basics required to implement a successful data-driven use case in marketing. Starting with why data-driven marketing is relevant they evolve towards conceptual topics such as KPIs and GDPR over to technical topics such as data source mapping, data storage and data organization. Together, you iteratively build the knowledge and apply each theoretical part to a specific industrial use case. At the end, you will be able to apply the acquired knowledge and drive data-driven initiatives in your work.
After the workshop, the participants will be able to
Drive successful data-driven marketing/use cases
Define and measure KPI
Understand requirements for data collection and storage
Respect GDPR regulations
Who should attend:
Product Managers and Product Owners
Marketing Managers
Engineering teams (Scrum masters, developers, UX designers)
Everyone who strives to be data-driven in their decisions
About Dr Anna Hannemann and Sarah Stemmler
­As a Domain Owner for Data Science at METRO.digital, Dr Anna Hannemann drives the story of data science and AI within METRO business. In her previous positions, Anna led products in areas of recommender systems and robotics/smart logistics. Hereby, data-driven decisions were always the main pillar of success.
Sarah Stemmler's company synsugar enables people and organizations to unleash their full potential of data by training and consulting. Sarah owns seven years of industry experience, running data science projects from concept to rollout. As a data strategy designer, she is also developing the future of data-driven organizations.
About STARTPLATZ
STARTPLATZ is a startup incubator and accelerator with branches in Cologne and Düsseldorf and functions as a hub for the local founders' scene. It was founded in 2012 by Dr Lorenz Gräf and Matthias Gräf. On approximately 4.500 square meters in Cologne Mediapark and 1.900 square meters in Düsseldorf's MedienHafen, an ecosystem was created that offers aspiring startups and innovative companies space for growth, advice & coaching, workshops & events, as well as a connection to the large network. More than 200 startups have already worked on their business ideas, over 20 million euros have been invested in them, and more than 135 teams have participated in the accelerator program. In cooperation with partners from the ecosystem, STARTPLATZ also offers companies and medium-sized enterprises various solutions from the startup world to implement and promote digitization and innovative processes successfully. Visit www.startplatz.de for more information.
All Pre-Conference Workshops
You do not only want to participate in one of our full-day workshops on Nov 15th but also learn from top-notch international speakers how to build better digital products? Then our Expert Ticket is the right choice for you — It gives you access to one of the Pre-Workshops as well as our Conference Day on Nov 16th. For detailed information, please click on the button below.