All you need to know about Digitale Leute Summit 2023
06. November 2023

30+ top-notch international speakers, four stages, and plenty of room to network with other product people, techies, designers, speakers, fellow attendees and exhibitors: Get deep insights into tools, tactics, and methods of professionals developing digital products in large-scale environments. Learn how these individuals and organisations find unique solutions to their digital challenges and get pragmatic advice for your daily work.
Today, we present to you everything you need to know about the 6th edition of Germany's leading conference at the intersection of Software Development, UX/Design and Product.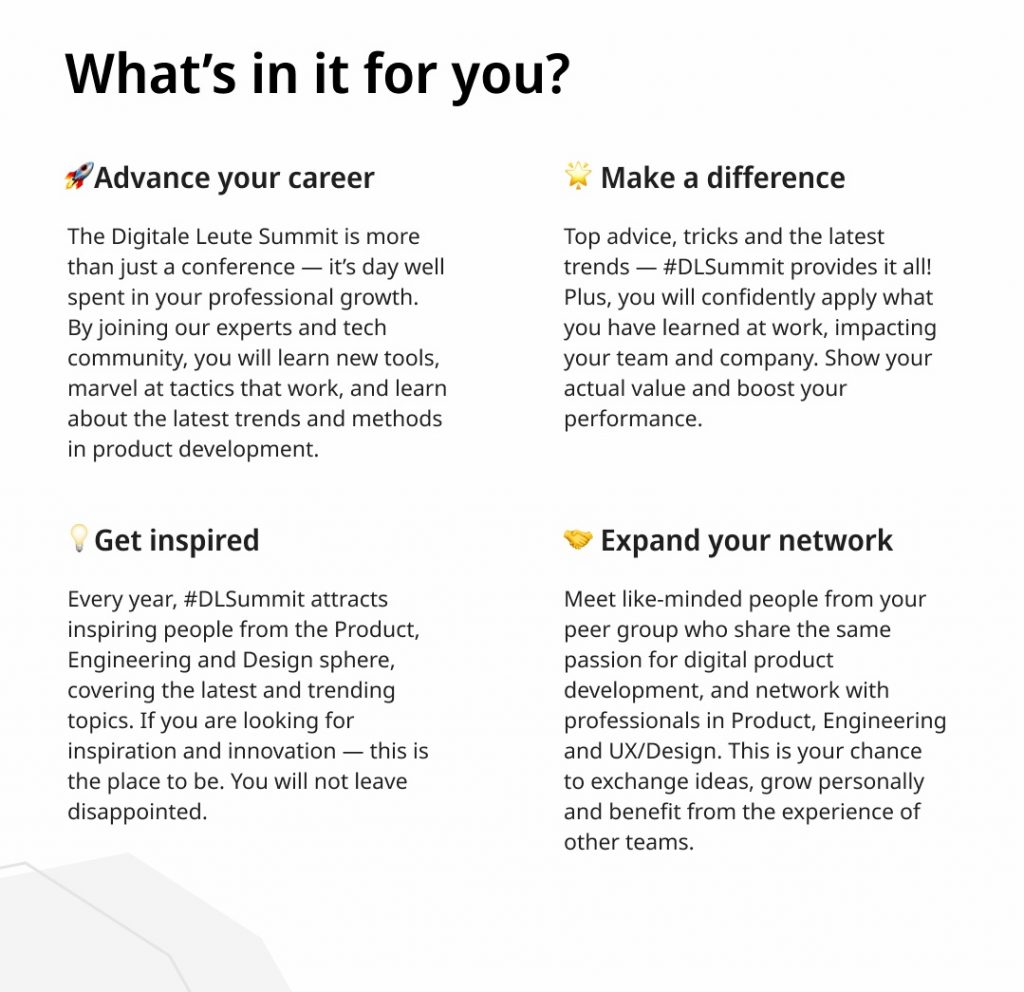 Discover what awaits you at the Digitale Leute Summit 2023:
Two Days full of Insights, Networking and Social Hours.
Five hands-on, full-day Expert Workshops on the first DL Summit Day.
Our Conference on Nov 8th with 30+ top-notch speakers from Slack, Delivery Hero, Zalando, Babble and many more.
Plenty of room to network with fellow attendees at the Palladium in Cologne.
Keynotes, Interviews, Talks, Panels and Tech Demos await you on our four stages.
An expo area designed by the Freeters artist collective that allows you to connect with leading technology companies and learn more about their software products.
Get-together after the Conference on November 8th with DJ Julian Stetter.
Our mission — Build better products!
Our top-notch international speakers present individual use cases, key learnings and studies that derive directly from their day-to-day work. On four stages on Wednesday, November 8th, you will gain deep insights into how to develop better digital products.

New this year: We are presenting two keynotes, one at the beginning and one at the end of the conference, from leading product management experts on current topics. The first keynote by Roman Pichler, product management expert, coach and author on "The Product Roadmap – A Curse or Blessing for Product People?". And the second one on "From Feature Factory to Product-Led Success – Navigating Doodle's Journey" by Stephanie Leue, Chief Product Officer at Doodle.
Less theoretical blah-blah, but lots of practical examples from everyday life, no bullshit, no digitalisation and transformation talk, but real best practices from the teams: that's what our speakers talk about on stage. You did not understand something or want to go deeper? All our slots have Q&As where you can talk to the speakers. To ensure you get the most out of our slots, we have worked out each topic individually with our speakers in advance and briefed the moderators extensively.
There will be 30 slots on four stages with the following formats:
Talk: 40-minute classic talk on a specific topic with a slide presentation and Q&A option.
Interview: 40-minute fireside chat on a specific topic that the speaker and moderator will discuss onstage and Q&A afterwards.
Tech Demo: 40 minutes deep insights into innovative digital products/tools with Q&A parts.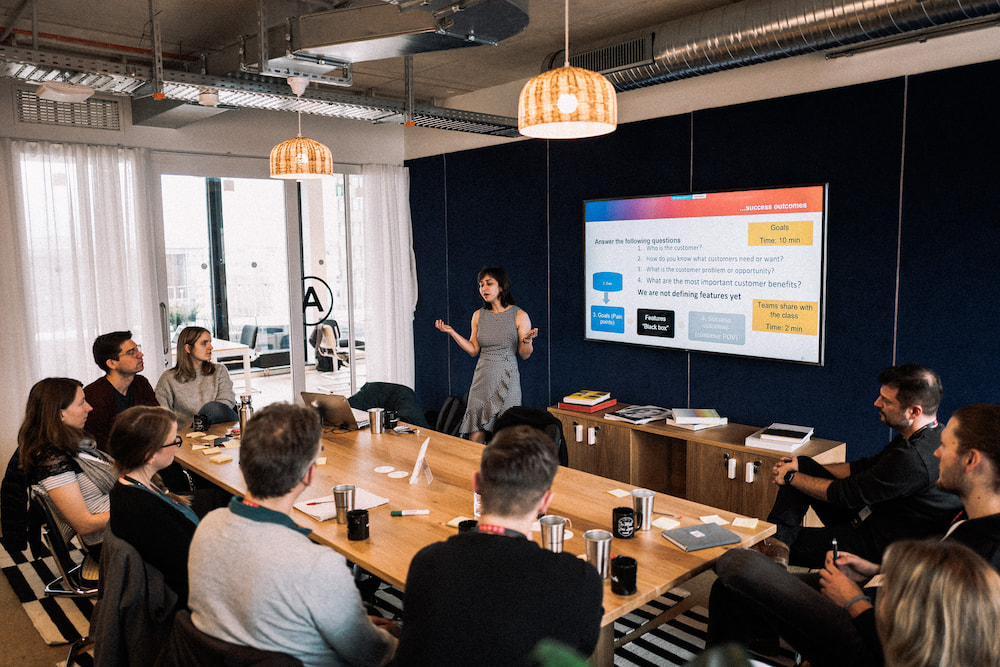 Five hands-on, full-day Expert Workshops
Join one of our five full-day workshops on Tuesday, 7th of November, at STARTPLATZ Cologne. Each host will work with you on specific topics — sharing their expert knowledge and years of expertise. It is an experience you do not want to miss — Promise! Here is our selection for this year's workshop program:
Same venue but our own Digitale Leute app that elevates your experience to a whole new level
Old but gold — The Palladium will once again welcome you to our 6th edition of the Digitale Leute Summit. Located in Cologne's upcoming tech hub, "Schanzenviertel", this iconic industrial building will invite you to enjoy a unique and vibrant atmosphere designed by the artist collective Freeters. On roundabout 3.500 m², you can immerse yourself in our four stages — including our Main Stage and three additional Conference Stages.
Enjoy delicious breakfast, lunch, finger food and drinks throughout the Conference Day — all included.
Do you want to make contact with interesting companies and your potential future employers at the conference? No problem! Visit our partner booths in our designated Expo Area and enjoy friendly conversations and deep insights into innovative software products of leading tech companies.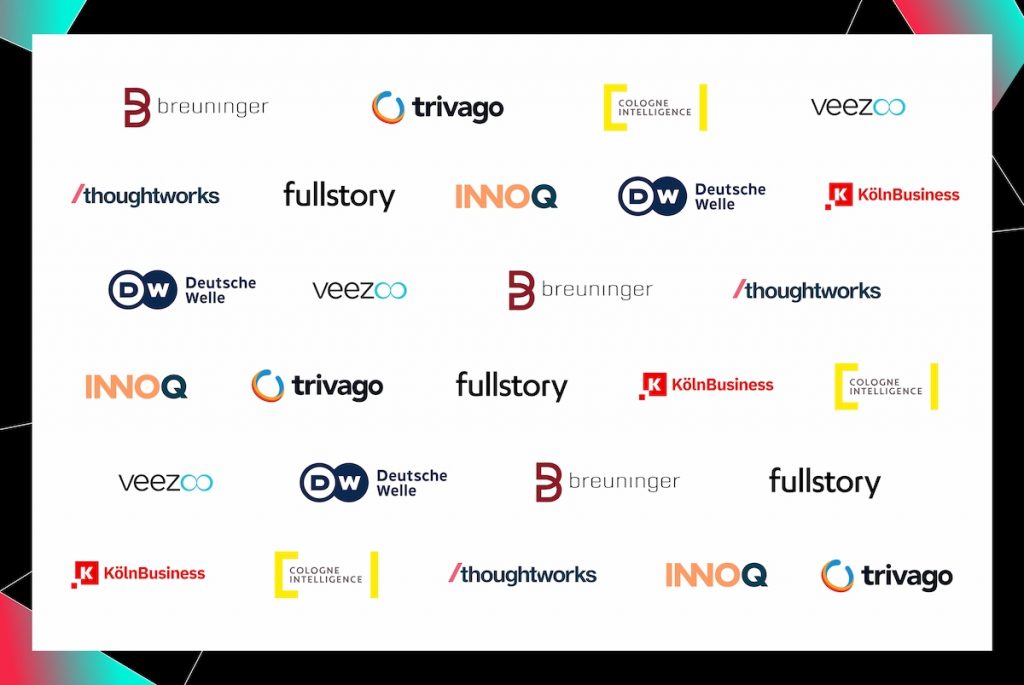 With our own "Digitale Leute" app, you are always up-to-date. You can find the complete program and save the sessions you would like to see in your calendar even before the conference. You can also find all speakers and participants in the app and make appointments with them in advance. In addition, you can easily exchange your contact details with fellow attendees and partners by scanning their badges during the conference — climate-friendly and without business cards. The interactive floorplan gives you an overview of all stages, catering stations, networking areas and exhibitors.

All attendees have received an invitation to the app via email well in advance. To get your QR code to access the event, you will need to download the app — once downloaded, simply shake your phone to access the QR code.
A matter close to our hearts: climate-friendly organization!
One aspect that is very important to us is not to impact the environment through the conference. To this end, we pay close attention to our own footprint by
Reducing printed materials as much as possible and using goods made from environmentally friendly materials.
Using sustainable cups, plates and cutlery.
Easy access to the Palladium by public transport.
Reusable furniture and partner stands together with their partner Freeters.
A selection of exclusively vegan food.
DJ tunes, party and nice conversations until deep into the night!
As last year, we will celebrate the end of the conference. After the official program at 6:30 pm, we will transform the Palladium into a special ambience to connect with people and enjoy some nice drinks while our DJ, Julian Stetter, puts on some nice tunes.
We are looking forward to seeing you!
Special offer for teams: Buy 4 and get 5 tickets!