Ticket prices will increase next week: Five reasons to join DL Summit 2023
14. Juni 2023

Have you already decided that you want to be there? You can be sure: We want you, too! But convincing your boss to let you leave the office for two days might not be easy. That's why we have put together a few unbeatable arguments to ensure you have a valuable conference day in Cologne and that your entire company benefits from it.
Most importantly: Prices won't get any cheaper — just one more week to grab your Early Bird Ticket — 399€ instead of our final price 599€.
All facts about the Digitale Leute Summit on November 7th and 8th, 2023
First, the facts. The Digitale Leute Summit is Germany's leading conference at the intersection of Engineering, UX/Design and Product, taking a holistic look at all aspects of digital product development.
The numbers:
1500+ attendees,
50+ speakers,
5 stages,
5 hands-on full-day Expert workshops and
many Tech Demos.
Focusing on our vision to "Build better digital products," you will get deep insights from some of the best and most successful tech companies on how they and their teams have built the best possible digital products in large-scale environments and engage directly with experts in the networking areas and at the evening event. Catering and party included!
Now let's get to the specific benefits of why your boss should send you to the Digitale Leute Summit:
Real solutions to real problems
We want to be less theoretical and try to avoid talking about digital transformation, instead giving you lots of practical examples from successful Product, UX and Engineering teams: That is what our speakers talk about on stage. You did not understand something or want to go deeper? All our slots have Q&As where you can talk to the speakers.
Our line-up is constantly evolving. We already have confirmed speakers from Slack, Delivery Hero, Doodle, trivago, Zalando and Babble. In the coming time, we will introduce each slot one by one. If you are curious now, you can take a first look here:

Top relevance and new perspectives
We have five stages featuring best practices from product developers of the most successful brands. This exchange of experience could hardly be more relevant for Product Managers, UX Designers and Developers. What's more, you will be far away from your usual desk in an inspiring location. We are transforming the Palladium in Cologne, actually known as a concert venue for international superstars, into an exciting conference location. Art installations and a stimulating live program will create an inspiring ambience, and, hopefully, new neural connections in your brain. You will come back to the company as a new person, maybe exactly what your boss has always wanted.
Tools, tactics and new methodologies
If you want to stay ahead in your industry, you need to know the latest trends. At the Digitale Leute Summit, you will learn new tools, marvel at tactics that work, and learn about the latest trends and methodologies in product development.
Especially on our full-day Expert Workshops on November 7th, you will deepen your knowledge and have plenty of time to work on a topic of your choice:
Extend your network
Meet 1000s of like-minded people from your peer group who share the same passion for digital product development as you do, and network with international professionals from Software Engineering, UX/Design and Product. Expand your professional network and find new colleagues. This is your chance to exchange ideas about product development, develop personally and benefit from the learnings of other teams.
Inspiration for your team
Take what you learned at the Digitale Leute Summit and share it with your team. You have the tools and the methods to integrate the current trends in product development into your work. It is about your personal development, but it is also about the development of your team and the company as a whole. With the content of the Digitale Leute Summit, you can enrich the company and enhance your product development.
Your company wants to engage, too and join us as a partner of Digitale Leute Summit 2023?
Then do not hesitate to get in touch with us. We would happily offer customised sponsoring packages for the perfect showcasing of your company and/or software product at the Digitale Leute Summit. We look forward to discussing partnership opportunities with you.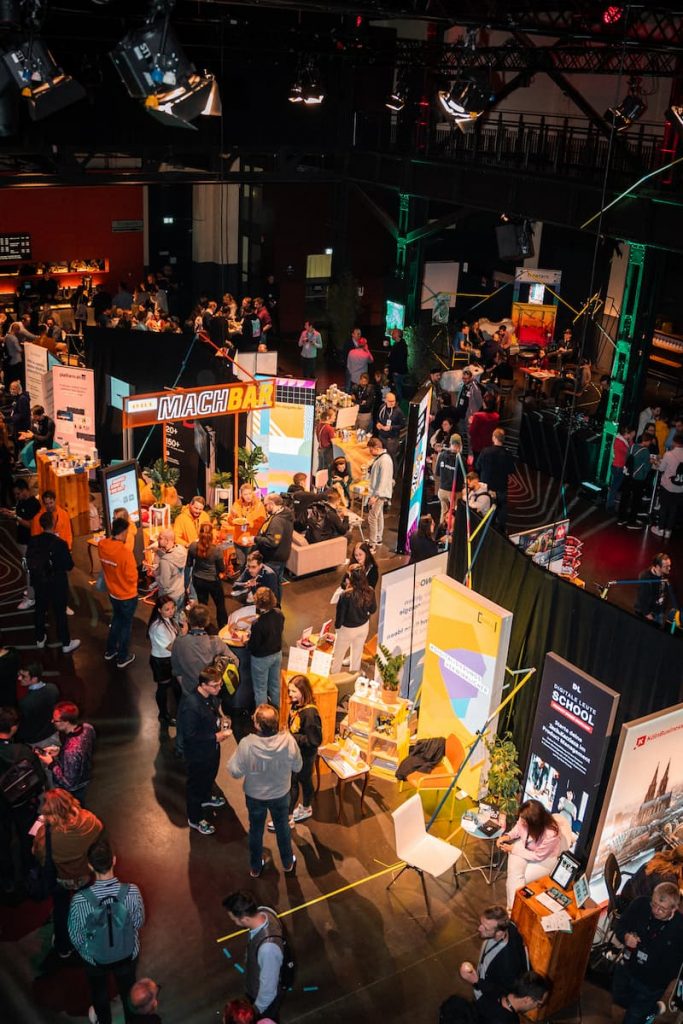 See you in November!
Stay safe, stay healthy, and take care of each other.
Your DL Team