Remote-Ready with Matt Davey, COO from 1Password: Make reaching out as easy as possible 
12. Dezember 2019

In this article series, we feature successful remote-ready companies and ask them how they collaborate effectively in a remote environment.
The privacy-platform 1Password has been fully remote for the full 14-years it's been operating, and "we don't see that changing," says COO Matt Davey. We spoke with Matt about the remote culture at the Toronto-based company, whose products are used by more than 15 million users worldwide.
In this interview you learn, how
an asynchronous approach gives people the chance to work with their agenda,
to make important announcements in a remote setup,
why you should make it as easy as possible for co-workers to reach out to each other.
How is your business affected by remote work in general?
1Password is essentially fully remote. We always have been and we plan to stay that way. We have an office in Toronto, but people aren't required to be there every day. It's a great place for us to get together if we need to, though we meet up all over the world. Sometimes people drop in to say hi or to work if they are in the area.
How does your current organizational setup look like and in which units do you work remotely?
Our team is 170-strong and growing rapidly. We're located all over the world, across 30 cities and multiple time zones. We have the flexibility to decide our schedules and can work from wherever we like, as long as there's a good internet connection, of course.
How do you collaborate with your remote workers on a day-to-day basis?
We take a mostly asynchronous approach to communication. Projects are managed through platforms like GitLab or Zeplin, which gives people control over when they pick up a task or respond to feedback from a teammate.
Working in this way gives people the freedom to set their agenda rather than reacting to requests, making it easier to provide the tasks that matter their undivided attention. It also means people can work to their natural rhythm and live more balanced lives.
Of course, some things need an immediate response. In those cases, we use Slack for instant messages and Zoom for meetings.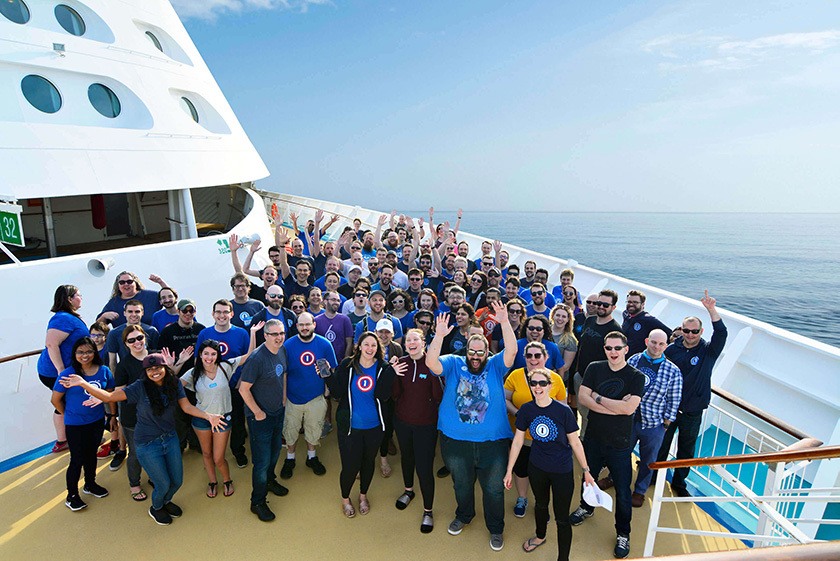 How do you reflect the remote work specifics in your approach to leadership, coaching and mentoring?
Managing a remote workforce brings unique challenges. You need to make time to check in with people informally and provide regular feedback. Otherwise, people can feel siloed or alienated.
You don't get that watercooler chat that you get in an office. So you have to be more proactive in seeking out smaller check-ins to make sure people don't have any concerns, and address any minor performance or satisfaction issues. If there's a problem, it can be harder for remote workers to reach out and seek help, so it's important to make it easy for them.
Which skills are essential to work effectively in your remote work organization?
Excellent communication skills are top of the list; the ability to relay information clearly and concisely is an absolute must. We hire the best people and trust them to do their jobs, so we look for people with strong self-motivation and self-discipline. I think the key to that is hiring people who really love what they do because they want to show up and excel.
Which recommendations do you have for companies who are just starting to embrace a remote work culture?
If you're not going fully remote, you'll need to make a conscious effort to prevent remote workers from missing out on "watercooler" chats. Make sure that you communicate in a way that includes everyone. Otherwise, remote workers can feel excluded and alienated.
Important announcements should be shared over the phone, or in channels that everyone will see, so people don't feel left out or overlooked. For example, we have regular group-based conference calls and an all-call every month with everyone in the company. Those all-calls are where we make important announcements.
Ongoing projects should always have a paper trail that's visible to both remote and non-remote workers so that people can quickly pick up where they left off and see who is working on what.
What do you do to make remote work fun for the people who are not in the office every day?
We're an eclectic group whose interests and hobbies vary enormously, all held together by a love for what we do. Even though we're growing quickly, we still have that small company feel.
Everyone looks forward to AGConf, our annual company retreat that takes the form of a Carribean cruise. It's a great opportunity to strategize and hash out new ideas, but also just get to know each other better. It gives us plenty of stories to keep us entertained for a good few months after.
Day-to-day, we have channels in Slack where people can get to know one another, share personal news, or chat about hobbies and pets. There are also channels to chat about books, gaming, music, and even mental health. We've also recently started Friday "Happy Hour" over Zoom, where anyone can drop in to chat about non-work topics.
Do you believe in the future of remote work as we do? Then head over to www.dl-remote.com, our talent platform for remote employees.