Remote-Ready: Leon Barnard from Balsamiq about collaborating across different time-zones
08. Oktober 2019

In this article series, we feature successful remote-ready companies and ask them how they collaborate effectively in a remote environment.
Founded in 2008 by Giacomo "Peldi" Guilizzoni, Balsamiq has grown into an industry-leading rapid wireframing software that has been used by Apple, Skype, Ebay or even Adobe. With a small headquarter in Bologna, Italy, Balsamiq is a remote-first company, that cares mostly about two things: Work should be fun, and life is too short for bad software.
We spoke about the company's remote philosophy with Leon Barnard, Education Team Lead at Balsamiq. He leverages his 10 years of experience as a UX designer to help teach user interface design basics and wireframing to Balsamiq's audience of mostly non-designers.
Here is what you will learn in this interview
How a "Golden Hour" helps to sync meetings and real-time conversation.
Why every important discussion or decision needs to be documented in digital forms.
How Balsamiq removed the cost barrier of face-to-face social interactions.
Leon, how does your current organizational setup look like and in which units do you work remotely?
Our company employs 33 people, all of whom work remotely either all or part of the time. We have an office in Bologna, Italy, that is within driving distance for about half of our employees, but typically no more than five or six of them are there at any given time. The office is provided as an option for those who live nearby, but employees are permitted to work wherever they choose. We don't have any teams or units that are fully co-located all of the time. We have a few employees located elsewhere in Europe and U.S. employees grouped around Chicago and San Francisco that all work remotely full time.
How does your collaboration practice look like on a day-to-day basis?
The amount of collaboration between employees varies by role and project. For people who collaborate often, we try to make it easy for them to communicate synchronously. For example, all of the software developers who work on our main product are located in central Europe so that their work hours overlap. We don't ask or expect employees to work outside of standard business hours.
Other job functions are deliberately spread out geographically, such as customer support, sales, and administration, so that they can provide support to customers or employees during the day. Much of the work we do can be done independently, so being distributed or working asynchronously isn't a barrier. However, we do maintain a daily "golden hour" when all employees are expected to be online (8-9 am Pacific Time, 10-11 am Central Time, 5-6 pm CET) so that real-time conversations and meetings across time zones can happen regularly.
We don't have very many meetings. This is not so much because of geographic challenges as the fact that they are expensive in terms of employee and company time. Most teams will meet weekly or every other week, and we have one monthly all-hands meetings for all employees.
We mostly all try to keep our schedules clear to work on our primary tasks.
As for brainstorms, they can be difficult to do with distributed participants. If we need to have a brainstorming session for a large project where the key participants aren't already close to each other, we organize a "mini-retreat" for the people who need to be there and we get them in the same place for a few days. We also have an annual retreat where all employees who are able to come together for a week.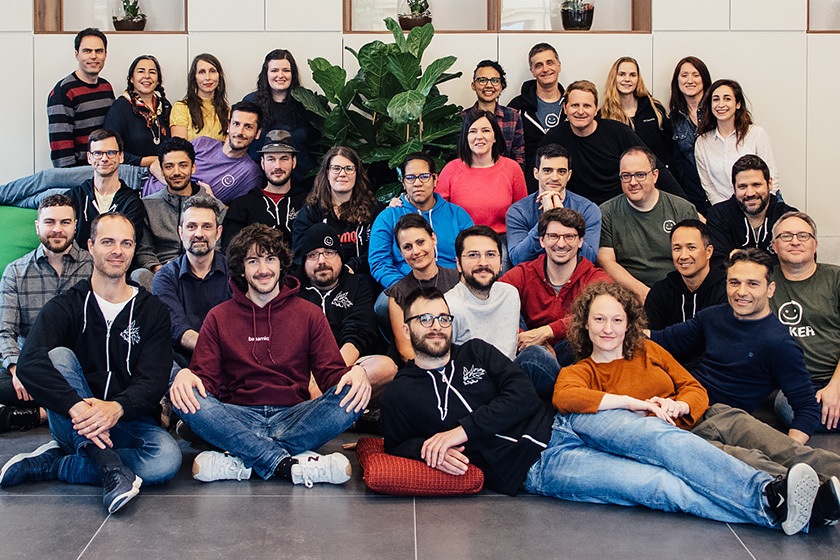 Do you have any key paradigms or must-haves for organizing your remote work collaboration?
One of the first things that employees learn is that Balsamiq is "remote first." This means that even if employees are working from our office, they work as if they are working remotely. Employees are free to work on a project while sitting next to each other, of course, but any important discussions or decisions must also be communicated in digital forms, such as via Slack or our internal Wiki. We want to ensure that nobody feels left out of a conversation they should be a part of. In practice, this is quite easy for us, because we've worked this way from the very beginning, and because most of our employees are actually remote.
UX/Design Jobs
Which are the most important tools for your remote collaboration?
We are lucky that there are so many tools these days that facilitate distributed communication and real-time collaboration. Slack and Confluence are the tools we rely on most, but remote companies, like all companies, vary a lot, so I recommend choosing the tool that best meets your needs.
How do you reflect the remote work specifics in your approach to leadership, coaching and mentoring?
From a leadership perspective, having a workforce of remote employees requires a lot of trust. After a handful of employees, you have to let go of knowing what everyone is working on all the time and whether they are being productive eight hours a day. It is also important to communicate the reasoning behind decisions and involve employees in making them if possible so that employees don't feel left out of the process.
On the flip side, employees need to engender trust. It is not only in the hands of the manager. We are a mostly flat organization.
Each employee needs to manage themselves and take responsibility for getting their job done.
They can't sit around and wait for someone to tell them what to do. As for coaching and mentoring, every employee has a quarterly reflection meeting with a peer of their choosing. This allows us to learn from others and continuously improve without the impulse to cover up our insecurities or challenges.
Which key skills are important to work effectively in your remote work organization?
Ultimately, the keys to being successful as a remote employee are not much different from people who work in an office. We look for employees who are responsible, adaptable, hard-working and have a positive attitude, just like other companies. Although being an effective communicator and an ability to work without close supervision are two characteristics that are especially important in remote work, I would even say they are essential.
Which tips can you share to have fun working remotely?
We have a Slack "water cooler" channel just like most companies. We also have separate channels for various non-work topics, such as sports and movies, plus channels for each of the geographic areas that have employee clusters. These help keep us connected socially. One rather novel thing that we do is provide a dedicated budget for in-person get-togethers so that employees who live close to each other can meet up regularly. It provides an extra social boost throughout the year and removes cost as a barrier to face-to-face social interaction.