#DL Summit 2023: Hey ChatGPT, what are the reasons for attending the Digitale Leute Summit?
12. April 2023

We are obsessed with OpenAI's chat tool, as is pretty much everyone these days. So we decided to ask: Hey ChatGPT, what are the reasons for attending the Digitale Leute Summit? And here we are: Pretty impressed with the results! If you think so too, you should be quick — only one week left to grab your Super Early Bird Ticket — 299€ instead of 599€.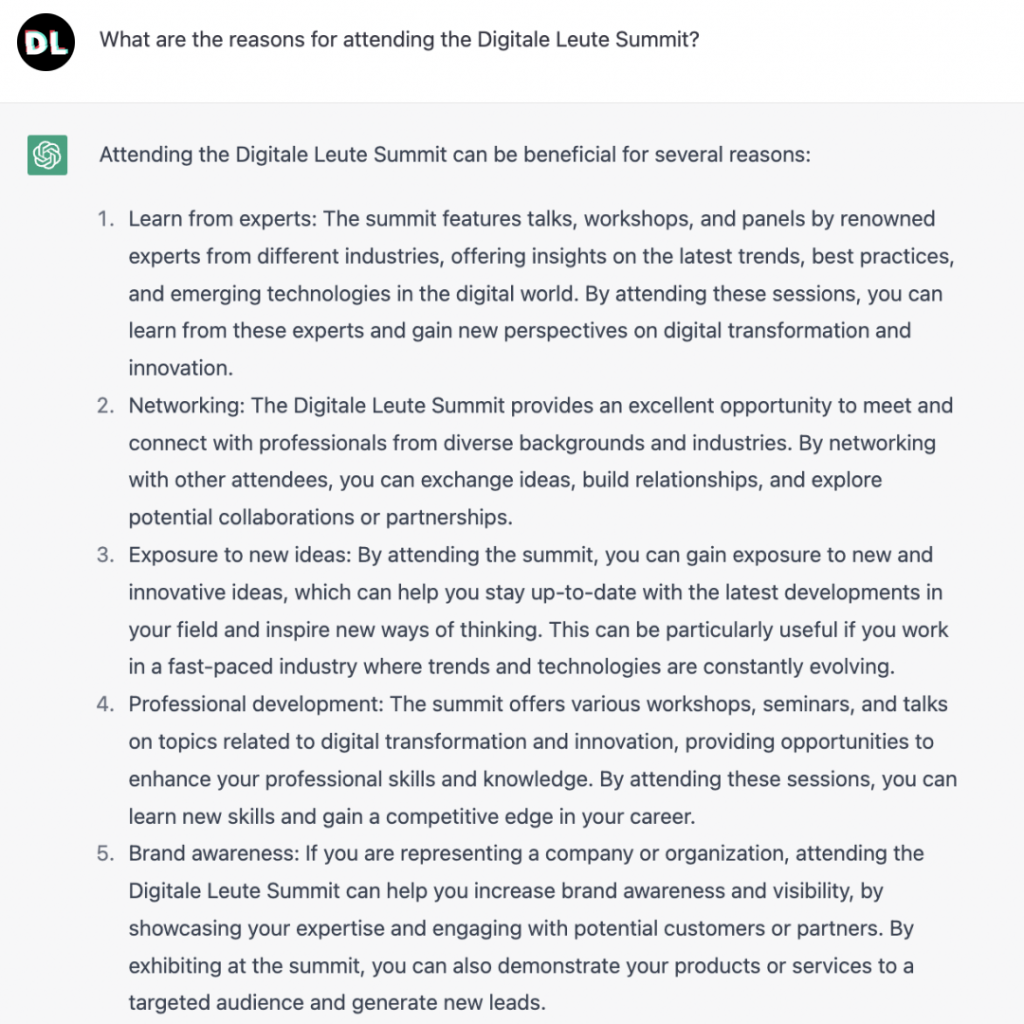 As we are intensively working on our 6th edition, we can give you more details to highlight why this year's Digitale Leute Summit is a must-attend for you!
Gain deep insights from Delivery Hero, Zalando, Hello Fresh and many more!
At the intersection of Software Engineering, Product and UX/Design, it is decided whether a fascinating idea also becomes a great product. That's why these disciplines are the three pillars of our event.
To achieve this, we set content priorities that reflect current topics and much-discussed issues in digital product development.
As in previous years, some of the best and most successful tech companies will showcase how they and their teams have built the best possible digital products in large-scale environments in talks, interviews and tech demos.
For the 6th edition of our Digitale Leute Summit in Cologne, we are especially happy to welcome Roman Pichler, coach and book author and an absolute expert in product management. After many efforts over the past years, we are thrilled to finally welcome him on stage as a keynote speaker!

Also, we are excited to welcome Sara Kalinoski, Senior Product Design Manager at Delivery Hero and Ex-Apple and Zalando, and other top-notch speakers from HelloFresh, wefox, Zalando and XING.
Over the next few weeks, we will gradually introduce the upcoming speakers. If you are curious, you can take a first glimpse here:
Hands-on full-day Expert Workshops
Here is a first glimpse of our full-day workshops on Tuesday, 7th of November, at STARTPLATZ Cologne. Each host will work with you on specific topics — sharing their expert knowledge and years of expertise. Here are the first three — stay tuned. In the following weeks, we will show you the complete workshop program: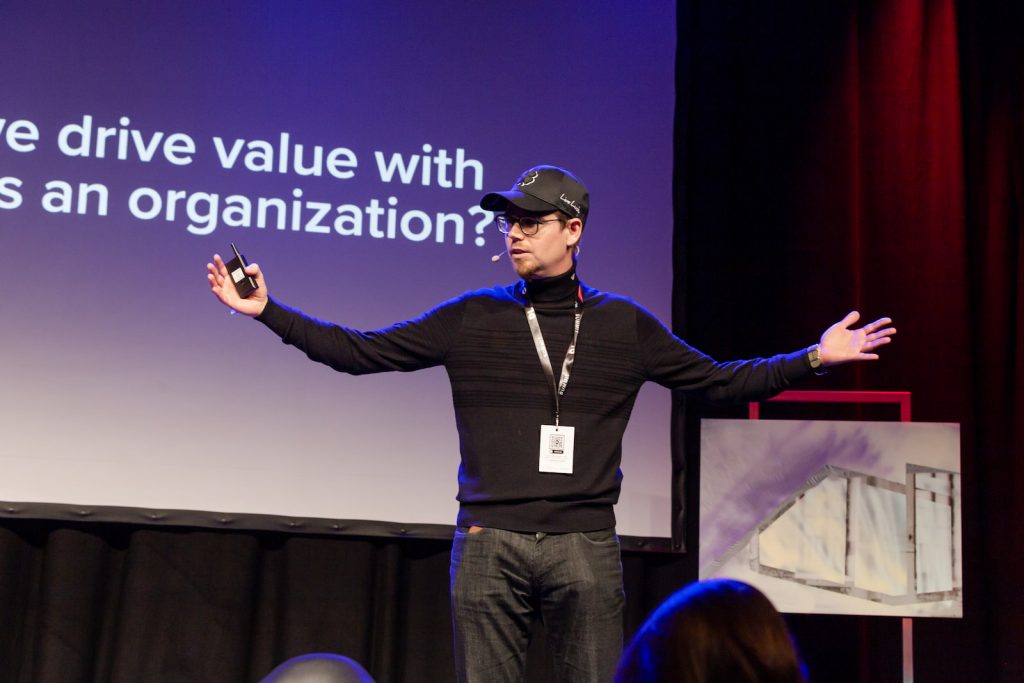 Want to engage and become a partner of Digitale Leute Summit 2023?
Do not hesitate to get in touch with us. We would happily offer customised sponsoring packages for the perfect showcasing of your company and/or software product at the Digitale Leute Summit. We look forward to discussing partnership opportunities with you.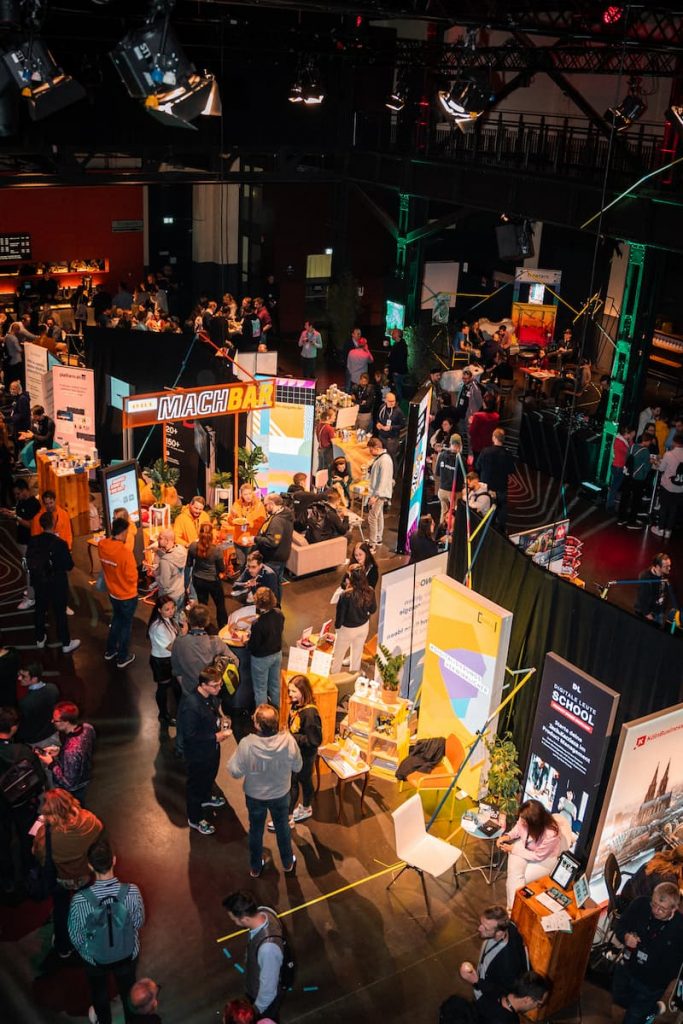 See you in November!
Stay safe, stay healthy, and take care of each other.
Your Digitale Leute Team