Everything you need to know about Digitale Leute Summit 2022
10. November 2022

50+ top-notch international speakers, five stages, and plenty of room to network with other product people, techies, designers, speakers, fellow attendees and 20 exhibitors: Get deep insights into tools, tactics, and methods of professionals developing digital products in large-scale environments. And learn how these individuals and organizations find unique solutions to their digital challenges and get pragmatic advice for your daily work.
Today we present to you everything you need to know about the 5th edition of Germany's leading conference at the intersection of Software Development, UX/Design and Product.
This is what awaits you at Digitale Leute Summit 2022 on November 15th and 16th:
Two Days full of Insights, Networking & Social Hours.
Four hands-on full-day Expert Workshops on the first DL Summit Day.
Our Conference on Nov 16th with 50+ top-notch speakers from Hubspot, Zalando, Puma, Project A and many more.
Approx. 1000 fellow attendees at the Palladium in Cologne you can network with.
Interviews, Talks, Panels, Tech Demos and a live recording of the deutsche-startups Insider Podcast with Alexander Hüsing and Sven Schmidt.
Five stages, including a dedicated Product-Led-Growth Stage hosted by deutsche-startups.de.
20 exhibitors in our DL Lounge Area designed by the artist collective Freeters.
Official Reception-Party on November 15th and Get-Together after the Conference on November 16th with DJ Julian Stetter.
The future starts now — Let's create successful digital products together
Our top-notch international speakers present individual use cases, key learnings and studies that derive directly from their day-to-day work. On five stages on Wednesday, November 16th, you will gain deep insights on how to build better digital products.
Less theoretical blah-blah, but lots of practical examples from everyday life, no bullshit, no digitalisation and transformation talk, but real best practices from the teams: that's what our speakers talk about on stage. You didn't understand something or want to go deeper? All our slots have Q&As where you can talk to the speakers.
To ensure you get the most out of our 50+ slots, we have worked out each topic individually with our speakers in advance and briefed the moderators extensively.
There will be 50+ slots on five stages with the following formats:
Talk: 30 minutes classic talk on a specific topic with a slide presentation and Q&A option.
Interview: 30 minutes fireside chat on a specific topic that the speaker and moderator will discuss onstage.
Tech Demo: 60 minutes deep insights into innovative digital products/tools with Q&A parts.
In addition, seven company and job presentations will take place at our Talent Stage. These are 30-minute sessions in which in-house product managers, designers and developers from top companies in the digital industry present their job vacancies and give exciting insights into the company and their day-to-day work. Your benefit: If you are interested in a job at this company and would like to apply, you are welcome to make contact live on-site and exchange details in a personal conversation.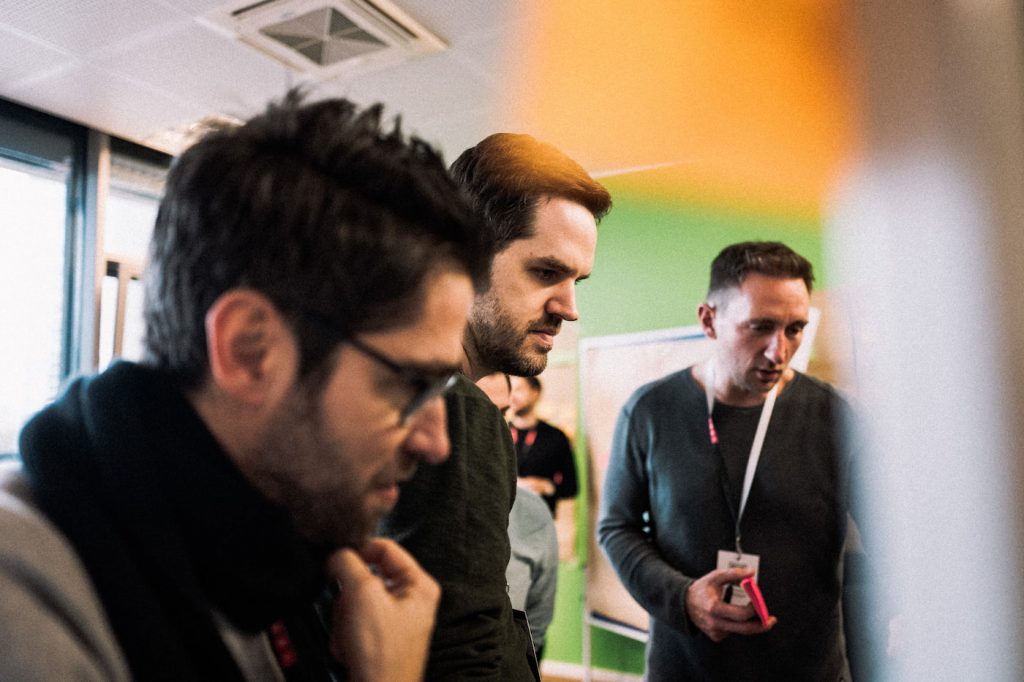 Four hands-on full-day Expert Workshops
Join one of our four full-day workshops on Tuesday, 15th of November, at STARTPLATZ Cologne. Each host will work with you on specific topics — sharing their expert knowledge and years of expertise. It is an experience you do not want to miss — Promise! Here is our selection for this year's workshop program:
"Master Product Guidelines and Principles that most companies miss out" by Rainer Collet and David Pereira
"Toward a High-Performance Mind" by Dr Reiner Kraft
"Practical Product Strategy to enable outcome-oriented decision-making" by Tim Herbig
"Lean Business Experiments" by Frederik Vosberg and Timothy Krechel
Same venue but a brand new app that takes your experience to the next level
Old but gold — The Palladium will once again welcome you to our 5th edition of the DL Summit in 2022. Located in Cologne's upcoming tech hub, "Schanzenviertel", this iconic industrial building will invite you to enjoy a unique and vibrant atmosphere designed by the artist collective Freeters. On roundabout 3.500 m², you can immerse yourself in our five stages — including our two Conference Stages, a brand new Product-Led-Growth Stage hosted by deutsche-startups.de, and the Tech Demo Stage. Additionally, we will integrate a Talent Stage where you can meet our official partners and learn about their job vacancies.
Do you want to make contact with interesting companies and your potential future employers at the conference? No problem! Visit our 20 partner booths in our Lounge Area and enjoy friendly conversations or get a hot coffee at the Barista Lounge of Sipgate and Café Ape of SprintEins.
With our new event app "Entegy", you are always up-to-date. You can find the complete program and save the sessions you want to see in your calendar before the conference. You can also find all speakers and participants in the app and make appointments with them before the event. In addition, you can easily exchange your contact details with other participants and partners via our badge scan option — climate-friendly and without business cards. The floorplan gives you an overview of all stages, catering stations, networking areas and exhibitors. All participants will receive an invitation to the app in time via e-mail.
DJ tunes, party and nice conversations until deep into the night!
As last year, we will celebrate the end of the conference. After the official program at 6:30 pm, we will transform the Palladium into a special ambience to connect with people and enjoy some nice drinks while our DJ, Julian Stetter, puts on some electronic tunes.
The Digitale Leute Summit is once again eco-friendly and climate-neutral!
We have been working with ClimatePartner and are happy to announce that we will donate our CO2 emissions, officially making us a carbon-neutral event! We have chosen to support the forest conservation project in Mataven, Colombia. For more information, click on the button below:
We are looking forward to seeing you!

Special offer for teams: Buy 4 and get 5 tickets!