Podcast Episode 27 – No grooming, no backlog meeting, no stand-up – Tinders approach to software development
05. Februar 2020

Serge reveals in this episode how his team "Generation Z" develops new features in a quick and reliable way while avoiding methodological ceremonies. He illustrates this with a new feature called Swipe Night, on which his software team worked for only a couple of months.
About the podcast
Digitale Leute Insights is the podcast for passionate product people. We interview product developers from around the world and take a closer look at their tools and tactics.
Host: Sebastian Waschnik
In this episode you learn:

how a cross-functional team at Tinder looks like,

how Serge's pod developed a complex new feature called Swipe Night in only a couple of months,

how parts of Swipe Night have been tested within other features before Swipe Night has been deployed,

how Tinder builts features which do not break,

how forecasting works when you develop features at high speed.
"My calendar is completely free and clear," tells us Serge Vartanov on stage at the Digitale Leute Summit when being asked what methods his pod uses. Pod, that is how they call teams at Tinder. Even more: His pod doesn't follow ceremonies. There is no grooming or backlog meeting. They do not even meet for a daily standup. If your team is fully aligned you can build quickly, Serge explains. Instead, they concentrate on documentation, and for questions he uses Slack.
This sounds bolt, especially if you take Tinders size into account: The dating app has had over 30 billion matches in over 190 countries. But Serge doesn't stop there: "We build features so that they don't break." His pod owns what it has built. But he didn't ever have to wake up when he had pager service. The real reason behind the stability of the app, Serge reveals, is a good unit test coverage, going the microservices approach and simplicity in coding.
About Serge Vartanov
Serge Vartanov is Senior Backend Engineer on the Tinder Z-Team, where he's focused on how Gen Z users experience dating in the context of their entire digital social lives. Before Tinder, Serge served as CMO of AutoGravity. Serge holds an MBA with distinction from Harvard University and graduated Phi Beta Kappa from the University of California, Berkeley.
About the Host
Sebastian Waschnik started his career as an automation engineer within a brown coal mining facility. He moved to software development and later transitioned to Axel Springer and started living the agile way. Within Axel Springer, as CTO of Ideas Engineering, Sebastian is one of the key drivers to transform this historic corporation into a modern tech company.
This episode is a recording of the session "Gen Z, Dating and the Apocalypse – How to Take Large Projects From Ideation to Market in a Matter of Months" which took place at Digitale Leute Summit 2019.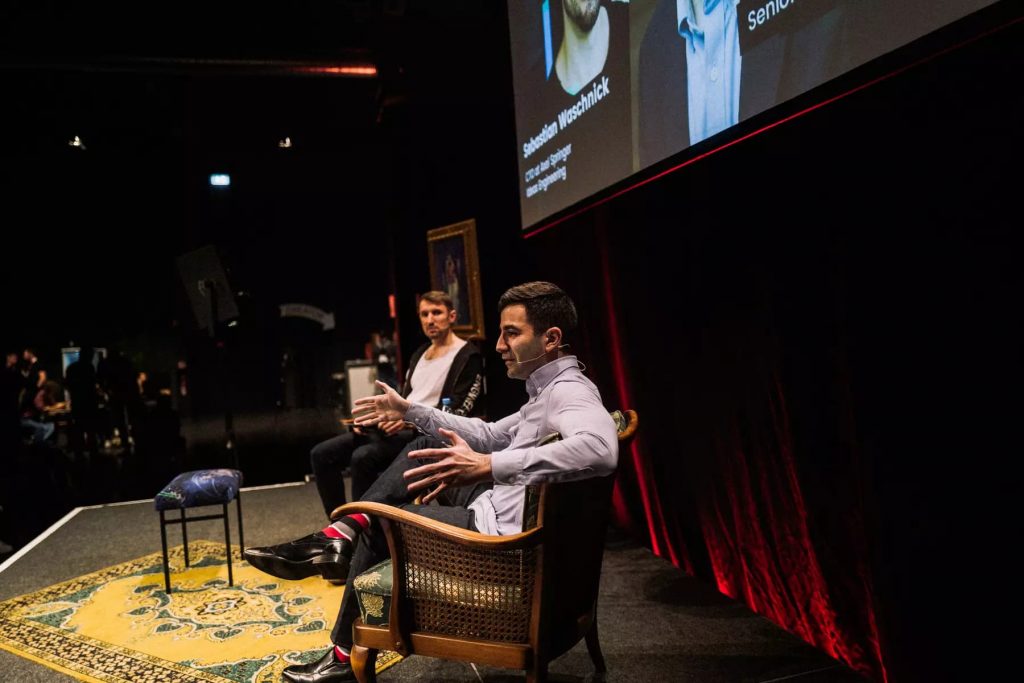 Contact us for feedback, suggestions or requests via dlredaktion@digitale-leute.de.